Ignite Your Sex Life
August 6, 2017 @ 11:00 am

-

6:00 pm

$180.00
Ignite Your Sex Life: re/discover passion, desire, and the pleasure of authentic erotic connection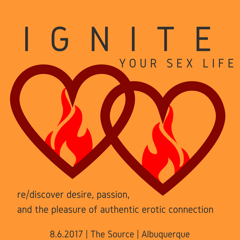 Ignite Your Sex Life is a workshop for couples* who want to experience the pleasure and empowerment that come from unleashing desire and connecting to authentic eroticism. Bringing together education, skill building, and experiential practices in a playful, accepting, and compassionate container, Elena and Molly will facilitate your journey to deeper intimate connection and amazing sex. In this workshop you will:
-increase awareness and acceptance of desire
-tune in to what your body is telling you
-identify sensual cues to keep you grounded
-find out what mindfulness can bring to touch and sex
-learn to identify and express boundaries clearly and lovingly
-practice communication skills that deepen your sense of connection
-feel more confident in touch and seduction
We are excited to support you in the vital pursuit of pleasure in your life and relationships!
About Us:
Elena Letourneau is a Certified Somatica Sex and Relationship Coach and assistant instructor based in San Francisco, California. The Somatica Method is a holistic, loving, and systematic approach to sex and relationship coaching that invites people to move beyond shame, live emotionally connected and erotically embodied lives. In her practice, Elena celebrates individuals of all genders and orientations, and folks in traditional and alternative relationship configurations. Her work is grounded in the belief that great sex and intimacy involve skills that are learnable. Find out more at bluemorpho-llc.com and somaticainstitute.com/somatica-philosophy.
Molly Adler is a Sex Therapist, Licensed Clinical Social Worker and Board Certified Sexologist. Molly currently practices at Healthy Families of Albuquerque. She has experience working with individuals and couples on sexuality and gender issues, intimacy, relationships and life transitions. Molly believes in a holistic approach to wellness through personal empowerment and uses body-based mindfulness throughout her work. In 2007, Molly co-founded Self Serve Sexuality Resource Center, New Mexico's first education-based, award-winning, sex-positive shop. She offers trainings on LGBTQ* issues, sexuality and cultural humility in mental health. Find out more at SexTherapyNM.com.
Buy tickets: http://www.brownpapertickets.com/event/3017241
*All pairs welcome. The focus of the workshop is on relationship and you are welcome to attend with a trusted person in your life (they don't have to be a romantic partner). This class includes partnered exercises (speaking and touch, fully clothed) and is open to all genders, sexualities, and current relationship status.